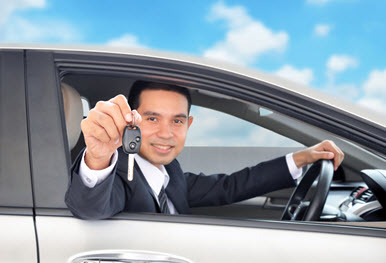 The CDW, or collision damage waiver, that the car rental companies offer is not actually a type of insurance, although many people mistake it for such. Instead, it is a waiver, which means the rental company will waive their right to collect a massive deductible from you if you happen to damage their vehicle. The waiver does not remove the deductible entirely. It will lower it though, and since they are generally so high with car rental companies, this might seem like a good deal at the outset.
What Do the CDWs Cost?
The price of the CDW varies from company to company, naturally. The average price tends to hover around $26 AUD, but it could be higher depending on the company you choose. If you are renting a vehicle for a full week, then you can expect to pay around $188 AUD on the waiver at least.
Some see the CDW as being a waste of money, and when you consider just how expensive it can be, it's easy to see that reasoning. However, those who do not have supplemental insurance to cover collision damage could be in for a rude surprise if they damage the vehicle. The cost of the deductible, in the Australian market, can be as high as $6000. The insurance companies charge high rates because they know that people will often pay them so they can reduce the deductible, and that consumers are often ignorant of other options, such as excess reimbursement insurance.
One of the other things to consider with the CDWs is that they may have coverage gaps. This means that they might not cover damage to certain parts of the vehicle, such as the windshield, for example.
See the below table which illustrates what Thrifty Australia covers as a standard cover, compared to their two CDW options over a 7 day rental. In the 4th column is a comparison with Australia's leading car rental excess reimbursement insurance from Tripcover.com.au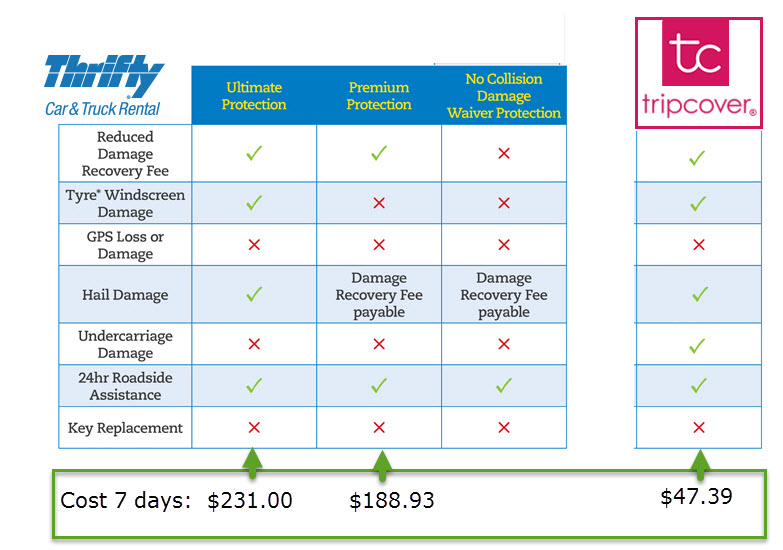 Do You Need to Have a CDW?
Some people automatically buy the CDW and just factor it into the cost whenever they rent a vehicle. However, that might not always be necessary. In fact, many times, the insurance policy for your regular everyday vehicle might extend to rental cars. This usually isn't the care in Australia, but often is in the US. In this case, if your deductible on your regular policy is better than the CDW, and you do not have to pay for it, then simply using your current insurance is a smarter and more cost effective option.
Two other alternative options
There are several alternatives to buying the CDW, are your travel insurance policy and your credit card company. Some credit card companies offer collision damage coverage free to their users. Others may charge a small fee. They can cover more than just the collision damage as well. If you have a travel insurance policy for your trip, it will generally have some type of car insurance included along with it. However be very careful with this option, given standard travel insurance policies tend to cover only the "standard damage" covered by the rental company CDW. So if you look at the third column from the left of Thrifty's coverage, these are the only things that are covered by standard CDW e.g. windscreen, undercarriage and hail damage are all not covered by the standard Thrify CDW, hence unless your travel insurance policy explicitly says that it covers "windscreen, undercarriage and hail damage" then chances are that you wont be covered.
While choosing or not choosing the CDW is ultimately your decision, some far better alternatives are out there that will help you save money and actually provide you with better coverage. Always look at all of your options before you simply buy what the rental company tells you do buy.